I owe you a huge apology. We should have had this conversation a long time ago. I don't know what I was thinking! I really should have mentioned this to you already. But I didn't; and its never too late to start making good decisions. So, let's talk. Just let me know if you disagree and we'll dialogue about it.

Did you know that people tend to attract people who are like them? For example, if you are a happy and fortunate person, then you probably have friends that are cheerful and a little well off. If you are a drug dealer, then your friends are probably either drug dealers or drug abusers. If you are a Christ fan, then your friends will probably love Christ too.
Sometimes, we tend to attract opposites but if you look closely, there is usually a pattern that has you and your opposite on the same track. I mean, you may be a night hawk and your best friend is a morning star, but when you consider everything, you probably have notable similarities, like nurturers or activists or humanitarians. For example, you may be 20 and your friend may be 40, but you both are experts on leap frogs or paper clips or computers or semiconductors.

Okay, let's stop right here and define what a friend is. I'm not talking about your friendly associates. I'm talking about those people that you both like and love; someone whom you will go to war with; and you will go to war for that person; someone that you have a strong relationship with; a relationship that has endured the test of time. I'm not talking about the person you met last month and you both like red Air Jordans so that makes ya'll important to each other.

Dig deep inside yourself and think about this because your very life depends on this small lesson. You are like a mirror and your friends are like your reflections. If you are crippled, angry and broken; you will probably attract a mate who is wounded also. If you are an airplane pilot, you will attract someone who can think as intricately as you do and if you marry a housewife, then chances are good that you will cheat with someone who is as exciting as you. If you see the whole world daily and your spouse can only talk about dirty diapers, that spouse will be uninteresting to you.

Now, I can hear all of your arguments right now and I'm just telling you this to keep you from going through some unnecessary changes. You can do whatever you want to just to prove me wrong; but if I were you, I'd pay attention. Ya see, I've walked down this road personally and I've been paying attention for a long time.

I said all of this stuff just to say this: if you have 4 kids and no job and are a drug addict, then in order for you to marry that millionaire, you probably need to stop hanging around your old friends and find some millionaire friends. Start talking to millionaires, researching millionaires, working around millionaires and doing those things that millionaires do. Don't hang at the car wash, go to the golf course. Don't hang at the dope house, hang at the airport. Don't sell crack; sell paper clips, computers or semiconductors. Start developing those long lasting relationships that will endure the test of time with millionaires.

Even if a miracle happens and you meet a millionaire at the dope house; either the millionaire won't be interested in marrying a poor person OR they will eventually make a huge change and your millionaire will become a drug addict and lose the money. Then he/she will no longer be your ideal mate.

Don't lose your dream; BECOME your dream. If you want to marry a whole person, you need to get busy and become a whole person. Your friends are your reflection, so you need to BE the thing that you want to SEE in the mirror. If you want to marry a doctor, become a doctor. If you want to marry lawyer, then become a lawyer.

If you don't want to live with a thug, then don't be a thug.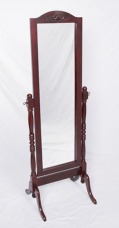 That image in the mirror is not etched in stone.
You CAN change it.