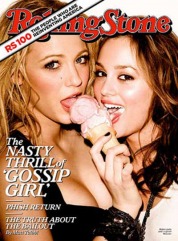 Example of Subject
There's this "thing" that I've noticed and as your mother I need to bring it to your attention. I don't really know how to approach the subject, so I'm just gonna jump in right here and . . . you can set me straight as we go. That's what communication is all about. But remember, my theory is time-tested.

It's like, I see ya'll in photographs together and I can't tell if you're good friends or lovers.

It's like, somebody convinced you that those sexually charged photos with one another are sexy.

It's like, ya'll really believed Snoop 'nem so you pose together in explicit ways . . . holdin' each other sexually with your tongues licking and stuff.

It's like, you can't see that those poses were designed by those who really only hope to exploit you in the worse way.
I know, I know, my lesbian daughters are gonna be mad; but ya'll we gatta talk. So that I don't confuse the issues or make folks get unnecessarily angry, let me qualify which daughters I'm talking to. Okay, if you're homosexual, I'm not talking to you on this letter. But, feel no way 'cause we got conversation too. For now, I'm talking to those women who hope to one day . . .
Get married to a wonderful man
Have a phenomenal career
One day run for public office
Preach the gospel
Have wholesome heterosexual families complete with
2.5 children with a
SUV with wood panels on the side with a
House and white picket fence.
Okay, see, now I gotta back up and re-qualify who and what I'm talking about again. If you're a woman, I'm talkin' to you.
Please stop taking the sexually charged photographs; heterosexual or homosexual; young or old; black, white, Asian; whatever. This is not the way you want to represent yourself in the future; and those photos are not going anywhere; well, actually, they're going EVERYWHERE!
I understand. No I over stand. You don't like momma for saying it; but
I'ma
need you to just
gone
and forego those photos and please stay off FaceBook with it. You can write me and fuss me out; but
I'ma
need you to just trust me this time . . . you'll thank me later.
Luv ya much
Mom