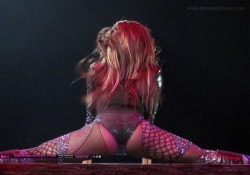 Click here if you need music because this is a hard subject to ride on without music:
06 Hater Day
.
I watched the BET Awards show with Ashley the other day and was deeply disturbed about something I saw.
There was a male-female dance competition that started out friendly enough. Terrance Howard talked smack to Taraji Henson and, of course, she responded to the challenge with even more smack; upping the ante. Then they decided to meet on stage to see who could dance the best. So far, everything is okay.
When they later met on the stage, Terrance Howard and his crew had on layers of common street clothes, while Taraji Henson and her all female crew showed up with the cutest little whore clothes you ever saw.
All of them could really dance so that wasn't the issue. While those clothes were cute,
them was still "ho" clothes.
I continued to watch the show as a parade of men came across the stage singing and dancing in street clothes with many layers or tuxedos while the display of female pageantry consisted of sexy sexy clothes or exotic bed clothes that only a woman's husband should see her wearing! Underwear: panties, bras and stockings.
After the show, I left the house and as I drove around or shopped, I noticed the same theme being played out in the "real world". The men have on layers and layers of clothes, but the women are close to naked; even in cold weather!
Okay ya'll. . .
Why the women gotta have on ho clothes
? Whose idea was that? And why did we women buy into the idea?
I'm not talking about Jesus Christ, God or my old school flavor. Even if God is not a part of your world, you should still be concerned about your health. This behavior is unhealthy in many many ways. Unhealthy for you, your children and your children's children. I'm talking about decency. I am asking, what happened to make it okay for women . . . celebrities . . . beautiful women . . . everyday women . . . my daughters . . . to wear those beautiful bed room clothes on the street, on the stage, on worldwide television?
I
might
feel differently if the men had on bed clothes too, but they don't; which lets me know that ya'll know, on some level, that this behavior is outrageous. If it was okay, the men would be wearing that stuff too.
Sons,
I'm speechless. My hands are in motion and my mouth is moving but no sound is coming out. I am flabbergasted. How did it get okay for you to try and turn all my daughters into hoochie mammas . . . skeezers!? What makes that okay? Ask yourself these few questions:
If all the men are pimps, what does that make all the women?
If all the women are whores, where does our society stand as a whole?
It's a sad society that contains only pimps and
hos
. That society won't stand. It will annihilate itself. Your life is gonna be filed with baby mamma trauma and drama. You will never have a family; just babies and babies' mammas. That's not living! That's genocide.
Daughters,
When you get dressed to leave home, please cover the 3Bs. Don't leave any of these things exposed unless you want to have sex with the first man you see.
3bs: breast, belly, and butt. Keep those treasurers for your husband.
I'm not saying you can't look good. There is a lot right with strutting your stuff and being as dynamic as you want to be. Anybody that knows me, knows that I love beautiful clothes – so that's not the issue. I am saying that men will use you for their short term pleasure. They will get you to act like a prostitute so they can get your treasures (satisfy their momentary desire) and, if he's any kind of man at all, when he's ready to get married, he will find a woman who has kept her decency intact. If he's not "any kind of man at all", then, you don't want him. Right?!
You don't have to look like a prostitute to get a man or feel good about yourself. Any man that openly and blatantly responds favoribly to a prostitute, is not the man that you want to father your children. And yes, you want all of your children to have the same father if at all possible; and you want their father to live physically in the house with you and your children (if possible). I know it sounds stupid to ya'll but you need to trust me on this one. Okay, don't trust me, think about it and let's talk. Don't take my word, do some research. Get back with me.
I luv you with my whole heart,
momma myrna